Unbound '18 -- The 20th Anniversary Ride
Colorado... Where it all began.
June 23rd - 30th (Sat - Sat)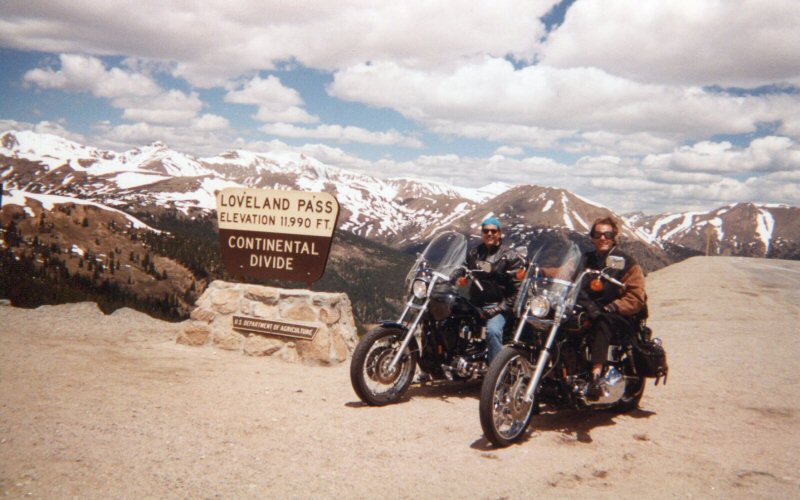 The inaugural "Unbound" ride in 1998 (Captain Unbound & Steve).
It was 20 years ago in 1998 that "Captain Unbound" launched the first "Unbound" ride. It seemed like a great way to escape the pressure and burdens of everyday life and enjoy this beautiful world that God has created. It was 20 years before that in 1978 that Captain Unbound was getting an engineering degree at the University of Colorado, Boulder. Now at age 62, Captain Unbound returns to "Mecca" once again. Damn, we old quick! I hope I'll be back again but this year has reminded me of just how fleeting life can be.
Here's the itinerary and route:
Day 0 (Fri) -- Extra Day; Captain Unbound and a couple others will fly-in a day early to hang-out in Boulder. 80 +/- mi.
Day 1 (Sat) -- The rest of the crew arrives in Boulder. 80 +/- mi
Day 2 (Sun) -- Boulder to Breckenridge via Rocky Mountain N.P. 200 mi
Day 3 (Mon) -- Breckenridge to Gunnison with a spur up to Crested Butte for dinner. 215 mi
Day 4 (Tue) -- Gunnison to Durango via Creede and Wolf Creek Pass. 220 mi
Day 5 (Wed) -- Durango to Glenwood Springs via Silverton, Red Mtn Pass, Ouray, Black Canyon. 275 mi
Day 6 (Thu) -- Glenwood Springs to Steamboat Springs via Independence Pass with an extended stop in Aspen. 220 mi
Day 7 (Fri) -- Steamboat Springs to Boulder via Poudre Canyon, Fort Collins, Loveland, Estes Park. 225 mi.
Day 8 (Sat) --- Return bikes and fly out of Denver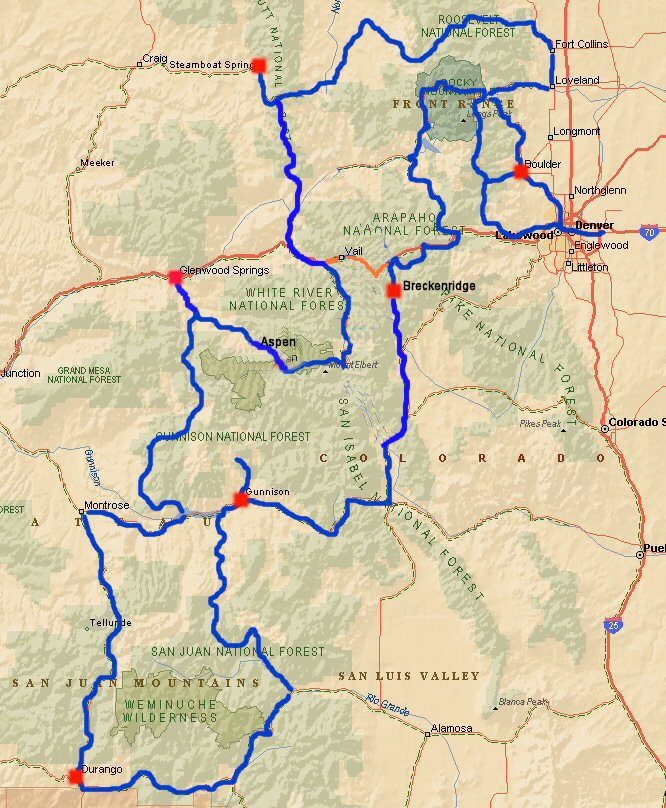 See you in Boulder....