Unbound '02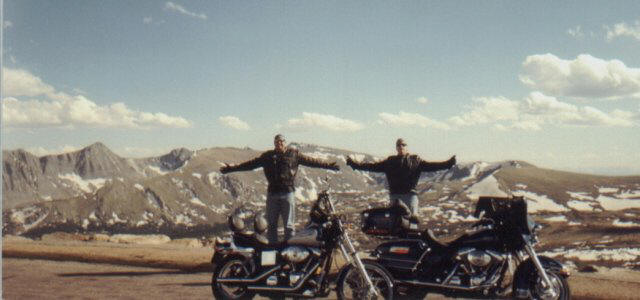 Big Dave and "Captain Unbound" atop Rocky Mountain National Park
(click on a rider in the photo)
Unbound '02 was an encore year for the "Colorado Rockies" Ride, but this year there were only two riders -- Big Dave and myself. This year's route included some different roads from the Unbound '99 ride. In fact, about half of the ride was on new roads. We covered 1,850 miles and crossed the Continental Divide 10 times. This years highlights included -- Mount Evans (the highest auto road in North America at 14,150ft); Rocky Mountain National Park; Independence Pass; Loveland Pass; the "Million Dollar Highway"; Black Canyon and some spectacular motorcycle roads.
Although it was a small group, it was another success -- no wrecks, no new nicknames, no breakdowns, and no rain. We were even able to avoid the incredible forest fires that were raging across the state.
Quotable quotes and memorable moments:
The ride up to the summit of Mount Evans was spectacular. Riding that big FLHTC on those narrow roads with 40-50 mph winds and no guard-rails was surely one of the most exhilarating rides I've been on. I'm not sure who was breathing harder after ascending Mt. Evans -- the bikes or us?!
Having now traversed the Continental Divide over 10 different passes, my two favorites are still Independence Pass and Loveland Pass for the vistas at the summits.
We also covered the "Million Dollar Highway" over Red Mountain Pass between Silverton and Ouray. I swear the engineer who designed that stretch of highway owned a motorcycle!
In addition to the mountain passes, some of the most enjoyable riding in Colorado is following the rivers that have carved their way through a canyon.
Of course, it's always nice to stop in one of the classic old mining towns like Silverton, Ouray or Creede for a bite or break.
More to come as time and new photos become available...